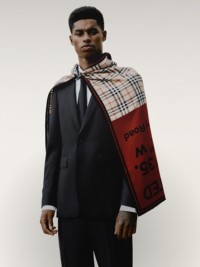 Burberry Supports Youth
Scroll to discover more
In the season of giving, we're championing the power of giving back. This year, we are donating to youth charities across the world to empower the voices that will shape our tomorrow, while our #DanceAndDonate TikTok initiative challenges you to recreate the dance sequence from our film to encourage further donations.
The Commitment to Go Beyond
We are proud to join forces with Marcus Rashford MBE on this initiative. His work to support the UK's youth sits at the heart of our partnership and embodies our commitment to community and going beyond. Like Thomas Burberry, he is a pioneer – an innovator and a freethinking trailblazer who uses his success to give back and nurture the next generation.
'Whenever you feel like you have very little, know that there are always people willing to give.'
Marcus Rashford MBE
'I've got a lot of belief in the young people of today. I want to support them as much as I can, just believe in them and show them that the country can be better in the future.'
Marcus Rashford MBE
Marcus Rashford MBE Returns to Norbrook Youth Club
Watch
A Global Vision
Our youth are the dreamers who will invent our future, which is why we have pledged to support youth organisations across the world and connect our community to those who are working to create a better tomorrow.